I did the most embarrassing thing today at work.
Remeber my
shoe post
from last week? I had a horrible time with the pictures for that post. I even ended up with some of them sitting on the desktop of my work computer. I haven't cleaned my desktop off in a while, so it's getting cluttered.
One of my coworkers is scrambling to submit a paper for a conference. She has had a long, hard battle getting it approved and she needed it converted to a .pdf file to submit it. I'm the only one in my group with the software to do that, so she sent it to me to convert. I saved it to my desk top. They found an error. I converted it again, and saved it my desk top. Then, another change, so I did it again.
I'm sure you see where this is going. Yes, in my rush to get her the last copy, I accidentally grabbed the shoe picture instead of the paper. So, instead of opening up a file of her very important technical publication, she opened up this.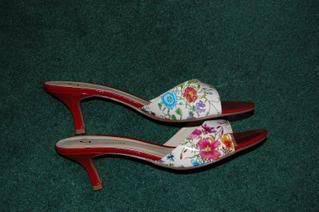 I'm so glad it wasn't a picutre of the Birkenstocks. That would have been bad.
The good thing is that I sent it to a woman, and not one of my male coworkers. If I had sent it to one of the guys, I would have owed him a beer. Instead, she emailed me back and asked me where to get them.