It's only been a month since our vacation, but it feels like it's been even longer. I'm ready for another one!
Most of our vacation was a staycation, but we did spend two days down at the shore with my dad. It's hard to describe what the shore means to me. For many people, beach memories are of a rental house and a weeklong party every summer. But, our beach house has a little more meaning and my memories are as much about family as they are about sand and seagulls.
My dad's parents married at about the worst time you can imagine for starting a family, the Great Depression. They were hard working people, but as many people know, that doesn't mean you'll always have a job, or a home. They certainly suffered along with the economy, and did lose their beautiful home. When the economy picked up, not only did my grandfather start working, so did my grandmother. They worked hard, and managed to rebuild their lives.
Like many in the Philadelphia region, one of their dreams was to have a summer house down at the Jersey Shore. When things were going well, they purchased a small plot on Long Beach Island and built a summer cottage. My great aunt and her husband bought the plot next to them and built their own little cottage. The cottages weren't anything special, just little boxes with just enough room to eat and sleep. They are close enough to the ocean that you can walk up with your blankets and chairs in the afternoon, and close enough to the bay that you can walk down and watch the sun set in the evening. At the time, they were all the rage. Now, they are just tear downs waiting to be developed.
It never mattered that the shore house wasn't very big, and that I had to sleep on an old Army cot in my Grandmother's bedroom. We weren't there for the sleep. We were there to play in the sand, swim in the ocean, and get hugs from the best grand mother on the face of the earth. We spent every weekend of every summer down at the shore, and they are some of the fondest memories of my childhood.
With both Andy and I working, and the significantly increased traffic, we do not have the opportunity to head down every weekend, but I do want to make sure that Michael gets his share of summer time beach memories with his grandpa. Here are some of the memories we created this year.
The sunset from the front yard.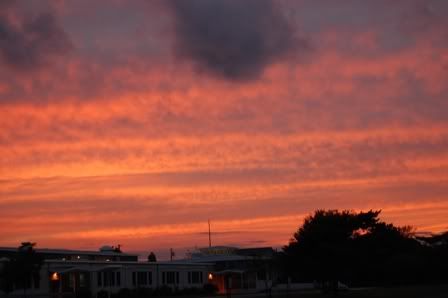 My sweet, sweet men.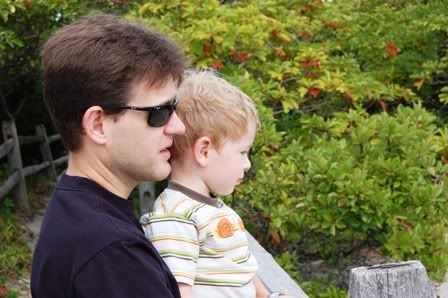 Michael on the dune walk.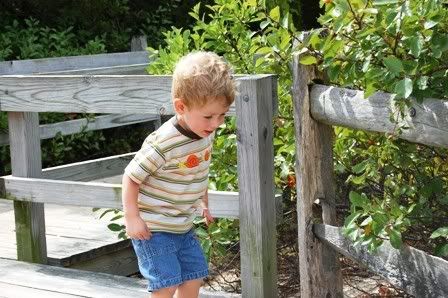 A look over the dunes to Barnegat Inlet.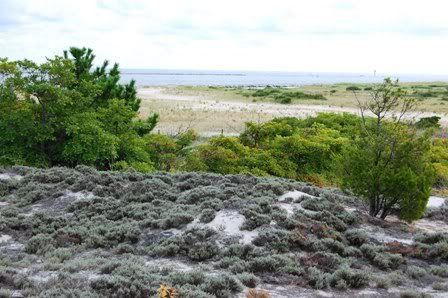 A really cool tree I found.

The Barnegat Lighthouse.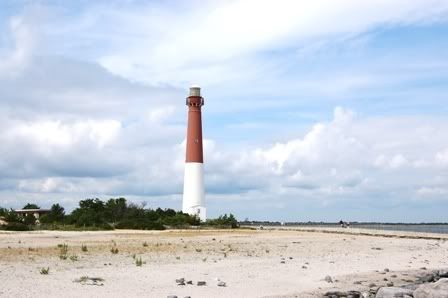 Cheeseball.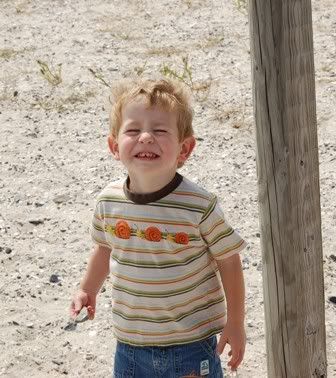 A Plover in the tide.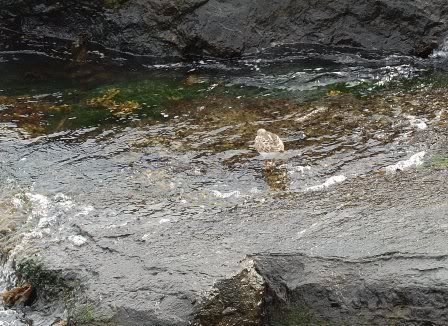 Michael having a blast on the rocks.
Next year, I hope to make it down to the shore more than once. However, that's really dependant on how well Michael learns to fall asleep in a bed, not at home, without me with him. On this trip, he refused to sleep in his pack n play, and Andy and I spent a very long night being kicked in the back, being kicked in the face, and listening to grunts and toddler toots.