For a month or so, I've been trying to get the idea of dressing up for Halloween across to Michael. I thought it would be a lot of fun to take Michael out and let him pick out his costume this year. I bought several Halloween books, we have watched several Halloween shows, but aside from pumpkins, Michael couldn't care less about Halloween. So, Andy and I ended up picking out his costume for him.
The first place we looked was at Pottery Barn Kids. They have some beautiful costumes, and if Michael had liked any of them, I might have considered spending the money on one. However, the only thing he was interested in was this.
I'm pretty sure that he would have played with this thing all night if we had let him. I thought about buying it, but I'm also pretty sure that he would lose all interest in it the moment I paid for it.
So, we headed off to the Disney Store. We tried to get him interested in the costumes there, but he was more interested in a toy vacuum that made noise. So, Andy and I looked around, and decided we really liked the Pluto costume. I mean, how can you resist this?

I mean, how cute is that? It's soft and puffy and warm. Just like the turtle costume I bought Michael last year.

Hmm...now that I think about it, Michael didn't like that costume at all, and refused to wear the turtle head. But, he's older know and he actually knows who Pluto is. Maybe he'll really get into it.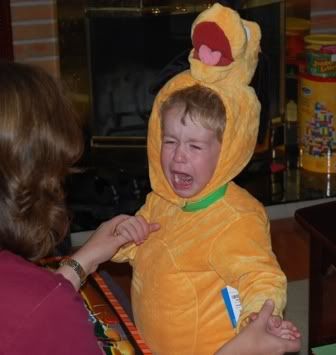 Maybe not.
Michael had a costume birthday party to go to on Sunday, so Saturday night we came to our senses and returned Pluto to the Disney store. We decided to go with the safest costume we could find. The pirate.
We considered trying the whole costume on him on Saturday night, but I decided that the last minute shove him in and out the door might be the best approach. Here we are at 50%. Not bad. No tears yet.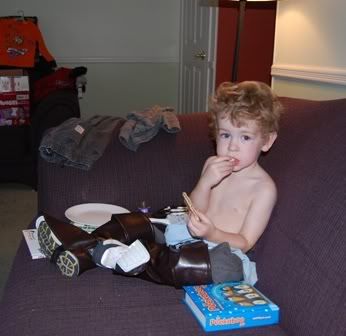 Now for the top.

He looks a little pained by the top, but he managed to hold back the tide. I fixed him up really quick, and we headed out the door. Here's what he looked like an hour later.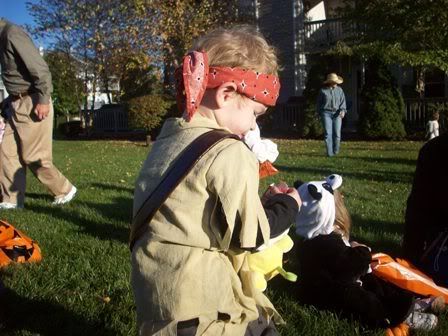 So, I'd say that the pirate costume was a success. He even wore the bandana on his head. It wasn't as cute as Pluto, but it worked.