One of the time honored traditions for both Andy and I while growing up was the annual trip to
Linvilla Orchards.
They had this incredible octagonal barn, old tractors that you could climb on, and a llama. Oh, and pies that were worth killing for.
It's not really the same place today as it was when Andy and I were kids. The octagonal barn burned down a few years ago, and even though they say they are going to rebuild it, they haven't. The old tractors are long gone and have been replaced by a huge playground, a train ride, and a bunch of food stands. I miss the tractors, but the funnel cake rocks. The pies are still worth killing for, but we skipped them this year because of waistline issues.
We have taken Michael every year, and it's clear that this has become a holiday tradition that we will keep alive.
Here is Michael as a itty bitty baby.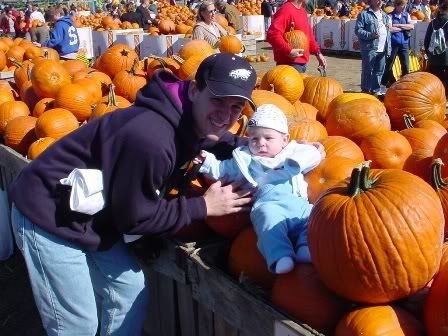 Here is last year's picture.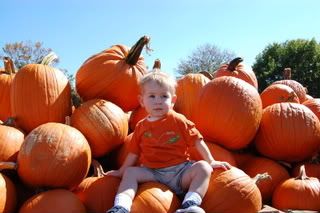 And here he is this year. Isn't he getting big? No more pumpkin sitting for him.
This year they made a huge Teepee out of corn stalks. Michael that it was the coolest thing ever. He would have played in there forever if we hadn't been forced out by the sheer amount of people that were there.
They also had these massive pumpkins fenced in with wire fence. Michael REALLY wanted to see them.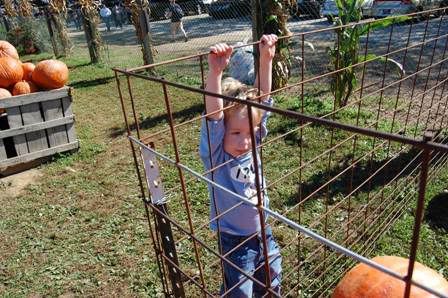 And then we discovered the duck pond. This is a new feature to the Orchards, and one that Michael loved. He gets a kick out of feeding animals, but tries to draw it out as long as possible by feeding them one grain at a time. It really seems like torture if you ask me.

Here are the poor birds waiting anxiously to be feed. Hopefully some impatient kids came along after Michael and just threw loads of food at them. Poor birds.