I'd like to introduce the newest member of our family. Meet Larry.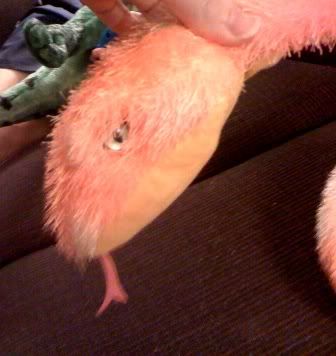 Poor Larry. We discovered her and her siblings abandoned in the gift shop at our local zoo. As you can see, Larry is a rare yellow, orange and pink, fuzzy mama rattle snake.

Larry's history before her tragic abandoning in the gift shop is unknown to us. I suspect that she was smuggled into the country from overseas. I just can't imagine why people put exotic animals through such trauma only to dump them into our inhospitable local environments.

When we went to the zoo on Tuesday I really did not expect to come home with Larry. Michael has never shown an interest in stuffed animals before, so I was not overly concerned that the zoo forces patrons to exit through the gift shop. I figured we would just walk on through like we always have in the past. But, not this time.

Michael quickly noticed the brightly colored litter of snakes hanging in the center of the gift store. The poor things were hanging by their necks from the display, their limp tails dangling down into a basket. Michael and I were both taken by the plight of these poor creatures. Michael rushed in and tried to rescue all of them; the orange ones, the green ones and the purple ones. I cursed the zoo for their prominent display of such startling colored child magnets and wondered what my chances were of escaping the store without either a snake or a tantrum. It didn't look good.

I was tempted to use the moment as an example of how little boys don't always get everything they want, but Michael draped the snake around his neck, named her Larry and told me she was a nice mama snake. Sigh. Why did he have to go and name her? So much for the teachable moment. I paid for Larry and we left the store with me holding her head and Michael trailing behind grasping her rattle.

I'm happy to report that Larry is fitting into her new home nicely. I was concerned that she might be discarded five minutes after we walked in the door, but Michael is quite taken with her. He has been dragging her back and forth between our house and grandma's every day since. Michael finds something very comforting about wrapping a four foot long, psychedelic snake around his neck.

I'm happy to have Larry in the house too. I love the giggles she gets from Michael when she tries to slither her way under Michael's shirt and up his belly.

Welcome Larry.