This past weekend we had the weekend that we should have had for Memorial Day. Everyone felt mostly healthy, the weather was perfect, and we did lots of fun stuff.
On Saturday morning we walked down our street to watch our township's centennial celebration parade. It wasn't the most impressive parade ever, but it was interesting enough for a three year old. Wait, scratch that. The camp chair that we brought for Michael to sit in was interesting enough for a three year old. While Andy and I watched the SWAT Tank, the Chick-Fil-A cow and the WaWa Goose march by, Michael entertained himself by sliding under the seat back, turning around, and talking with the two girls behind us.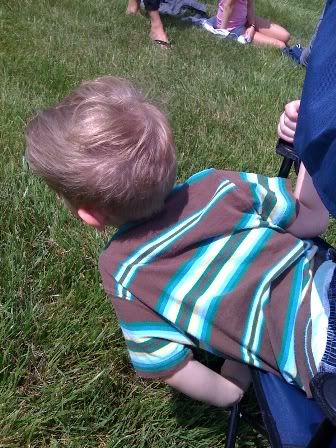 This was my view of Michael throughout the hour long parade. All things considered, not having to chase Michael around for an hour is what I call a victory.

The day was so nice that we decided to head up to one of our local parks for the afternoon. It's a gorgeous park, with a big lake, paved trails, and plenty of parking. There were tons of people walking the trails, dogs galore, baby ducks, and even some sail boats on the water. Michael was thrilled by all of the excitement, and had a blast throwing rocks in the water. But, one thing really caught his attention.



I'm not sure if you can see it or not, but he's playing with a tent caterpillar. He followed it all over the picnic bench, tried to feed it a piece of wood, and eventually managed to coax it onto his hand. After about 20 minutes I finally decided that poor thing had been traumatized enough and I released it back into the wild. (This is really funny considering that every spring we would burn every tent caterpillar nest in our apple trees, scorching the little pests to death. I just don't think Michael needs to know the harsh realities of apple farming at such a tender age.)

To end such a great day, we decided to push our luck and stopped at Outback for dinner. Considering Michael had been to a parade and to a park in one day, he did really well at dinner too. He did stand up on the seat a lot, but the hostess had stuck us in a corner, so he didn't bother anyone. It capped off the day perfectly. We headed home with full bellies and drooping eyelids. Now that is my kind of day.