We went to a BBQ at my sister-in-law's on Saturday. We have been having beautiful weather recently, so we were actually able to enjoy time outside playing games in the yard. We ate good food, enjoyed good company, and in general had a wonderful time.
Michael enjoyed himself too. His Aunt had bought him some toys and bubbles, so of course he decided to ignore them and mess around with her house and yard instead. She didn't seem to mind. Instead, she and several of the other women took turns playing with him. He was thrilled with all of the attention.
He did have a bit of a disappointment though. There was a very attractive older woman at the BBQ that he tried to put the moves on. She was six, and she wanted nothing to do with a grubby little three-year-old. (I'm pretty sure he was sticky too.) He really wanted to play with her, and he even approached her to ask her name, but she simply responded and turned away. Poor boy. Little does he know what the future will be like.
Not long after her rejection, I found him poking around on the porch. This is what he found.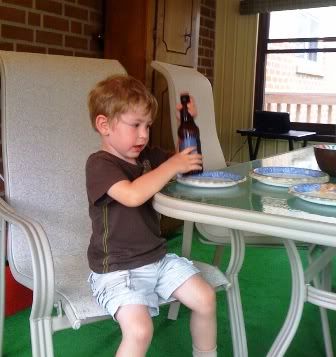 Is that beer? The poor kid must be heart broken. But three seems a little too young to be hitting the bottle when rebuffed by a woman. Granted, she had gorgeous curls, but drinking never turns out well in the end.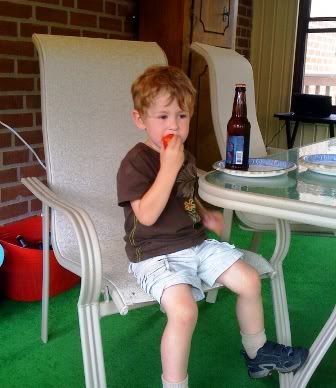 Fortunately, he couldn't figure out how to open the bottle, and his evil mommy wouldn't help, so he gave up and moved on to the strawberries. (Ha, you didn't really think I was going to let him have some beer I hope!)

I did, however, introduce him to one of the most wonderful beverages on the face of the earth. His first Coca-Cola!

I have very mixed feelings about letting him have some soda. I have a serious Diet Coke habbit at this point, and I don't want him to end up the same way. I don't know how to keep him from getting hooked on soda like I did, but I do know that making it a special treat like my parents did is probably not the best way to go.

Michael seemed more excited about being given his own can of soda then he did about actually drinking it. He carried the can around for about half an hour, but he didn't actually drink very much of it. In the end, Michael was happy because we had entrusted him with a can of soda, and Andy and I were happy because he wasn't all hyped up on sugar and caffeine.

What more could I ask for?