When I packed my bag for the New York trip, I was not able to fit my DSLR camera into my suitcase. However, I decided that it was such an important trip, that I just had to have it. So, I lugged the camera bag with me on my train rides and carried it around the city on my way to the hotel. Then, I never used it. Between the DSLR and my iPhone, I only snapped a total of 10 pictures.
The first three, I snapped with my iPhone at the wonderful sushi restaurant that we went to on Friday night. The service was excellent, the sushi was amazing, and then there was this.
Lindsay was the first to encounter this little device, and was so fascinated that she had to tell us all about it. Some of the more sophisticated among us had encountered it...

Talk about a control panel. It has as many buttons as our HDTV does at home. Which, in my book, is too many buttons. One of the perks of being married is that I don't have to be involved with complex equipment like this. It really helps simplify my life. So, for this reason, I don't plan on ever upgrading to this particular model.

I'm sure most of you know what this control panel is for, but for those how don't here is a picture of what it controls.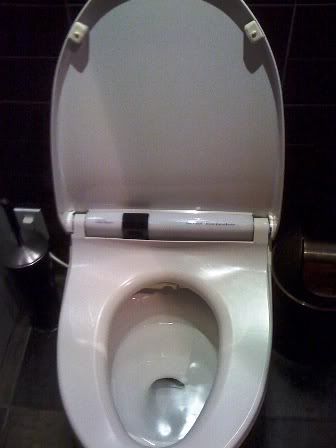 Yes folks, three of my ten NYC photos are of the toilet at the Sushi Restaurant. I'm a classy gal, aren't I?
*****************************
So, while on on such a desirable topic, I might as well keep going.
I used to be the manager of a book store, and I was in charge of the children's section of the store for several years. This was back in my "I'm never going to have children" days, so it wasn't the best match. I didn't always appreciate some aspects of children's literature. I got books like
Good Night Moon
and
Curious George,
they are fun
.
But, I didn't get books like the potty training books. Of the seemingly very silly selection of potty books, the one that always made me giggle the most was
Everyone Poops.
I'm not sure I ever managed to keep a stright face when a parent came in asking for the book.
Serioulsy,
Everyone Poops
? You have got to be kidding me.
So...
Michael is still very resistant to potty training. He will now climb up on the big potty and pee pee all by himself, but he will only do it right before bed, and only if I coerce him. So, he will use the potty once a day.
We have talked with him about the reward will be for pooping in the potty five times, and he understands what it is. He has repeated the bride to my mom. "If I poopy in the potty five times, mommy and daddy will buy me my own laptop." He get's the idea, but he still refuses to do it. Not even for a laptop.
I stopped at the bookstore on the way home yesterday. I wandered over to the potty training section. And, I sucked it up and I bought a copy of
Everyone Poops.
Then, as karma seems to enjoy, Michael made me read it to him several times before bed, and then he talked all about the book first thing this morning. I guess it made an impact.
Anyone want to bet that it doesn't make a damn bit of difference?