One of my favorite aspects of living where we do is the local farm park. We have spent many hours walking in the park, throwing stones in the creek, and just generally goofing around. This is also where I have started to run.
Last week I was playing around with my iPhone while doing my warm up walk. Once I got everything figured out, I looked up and noticed that everyone in the parking lot area was standing still and staring at me. Yikes!
But then I realized what they were really looking at.
We have several great Blue Herons in the park, but I've never seen this stately white bird around before. From this distance I couldn't get a good view of it's beak and legs to make a positive identification.

This is one of the big problems I have with running in the park. Do I stop and enjoy all of the bits of nature that distract me, or do I focus on exercising? In this case, the bird was such a rare sight that I decided to take a moment and ogle. But, I still wanted to head in the right direction. So, I decided to push my luck and see if I could get closer. I walked slowly and snapped pictures as I went.


It let me walk right on by. I got to see it's yellow beak and black feet clearly enough to identify it as a Great Egret. I've seen them before, but never in this area. I have a feeling it was heading south.

Aside from that stop, I do try to stay as focused as possible while running. However, last night I decided to take a walk in the park. I should have brought the DSLR, but instead only had my iPhone to snap pictures with. Here is a sampling of what I saw.



According to this Wolly Bear we are going to have a cold winter.
(Or, he's just getting old, but that's not as fun.)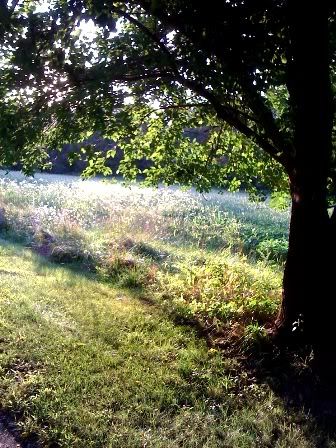 I came across this field of gold not long before it got to dark for pictures. What a gift to find this kind of scene in the middle of the crowded Philly suburbs.


On a different note, I will be on vacation next week. We are only planning a few day trips, but it's likely that I won't be blogging until I return to work on the 14th. At that time, I'm going to start the build up to the the great blogging mommy meet up in NYC starting on the 18th.