We have a new front in the war of staling. Michael has decided that he must play in my car. Sometimes he decides this before getting into his car seat. Sometimes he waits until we have arrived at our destination before trying to escape into the front seat. Either way, it's annoying.
I've had to use a variety of techniques to get him either into his carseat, or out of the car. The 1, 2, 3 magic approach seems to work well most of the time.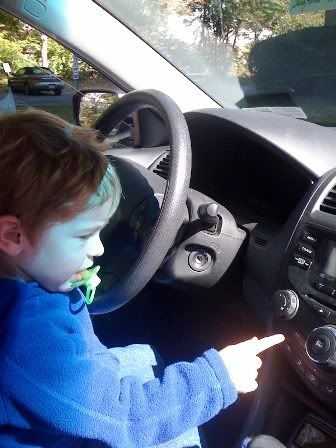 But not always. I mean, just look at all of those buttons to push. In Michael's world, that's worth a time out.

If it's 5:45 in the morning and I'm dropping him off before work, I've resorted to the haul him out kicking and screaming approach. It's not my favorite approach, but sometimes a mom has to do what she has to do.

And sometimes, I use bribes. On this particular day, I had decided to let Michael play around for a bit. We weren't in a rush, so what's the harm in letting him indulge a little? However after about 15 minutes I wanted to get going. I didn't have any bribes handy, so I needed to think quick.

Wait, Rita gave me a Dunkin Donuts gift card when we were in NYC. There is a Dunking Donuts on the way home. Michael likes doughnuts.

"Hey Michael, if you get in your car seat, we can stop on the way home and get a doughnut with sprinkles."