While we did not send Michael to preschool this year, we did enroll him in several classes at the local community center. I picked Little Chefs so that Michael would have a chance to socialize with other children, and in the hopes that maybe seeing other kids eat food might convince him that eating food is a good idea. He seems to tolerate the class well enough, but seeing other children eat has done nothing to expand his culinary horizons.
The second class we enrolled him in was swimming. He and my mom spent the entire summer at the pool. Michael would spend hours every day in the pool because he loves it so much. My poor mom was exhausted! So, when I saw that Michael was old enough for swimming lessons that didn't require my mom to swim with him, I jumped on the oppurtunity.
Michael loves his swimming lessons and has recently moved from tugboats to speed boats level. My mom snapped some pictures of him one day.
I actually remember doing these very same kicking exercises when I was his age. It's not surprising to me that Michael loves swimming. I love swimming so much that many of my earliest memories are from the pool.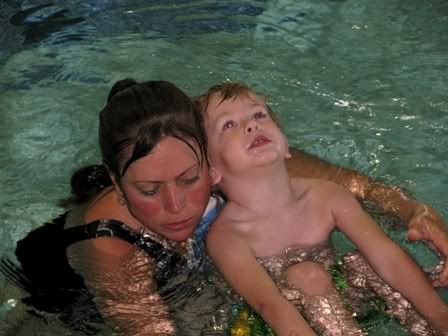 Michael also loves his teacher, Miss Cathy. I have no idea what his Little Chef's teacher's name is. I ask him each week and he never answers. However, I can always tell when he's had swimming because he always talks about Miss Cathy.
I cannot wait to get him down to the beach next summer. I think he's really going to love the bay this year.