Moms and dads are just different. That doesn't mean that we aren't equally qualified to parent. It just means that we may go about it in somewhat different manners.
For example. It would never cross my mind to buy a 3.5 year old a snow ball maker for Christmas. If someone consulted me about it before purchasing one, I'd suggest that it's not a good idea because I know I would end up being the target of said snowballs.
Andy, on the other hand, saw a
snowball maker
in the L.L. Bean Catalog and thought it would make a great gift for Michael. Of course, Andy knows that he will end up being one of the ones throwing snowballs at me, so what does he have to lose?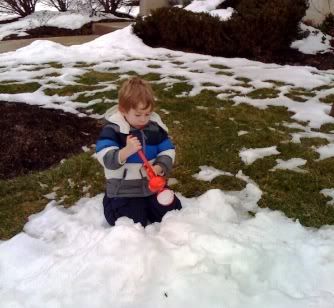 Here is Michael on Christmas day making snowballs to throw at me. He has decent aim, but his arm isn't very strong, so I didn't mind letting him throw them at my butt. (He also pelted my mother in law a few times too. Tee Hee.)
Andy spent half of the time inside the house watching through the storm door, and the other half throwing snowballs at Michael and I. Michael and I tried hiding behind the CRV, but Andy managed to toss the snowballs so that they would slide over the roof and rain snow down on us. There was much giggling and shouting involved and we were all smiling when it was time to head back in.
Sometimes it's good to let dads lead.
Please remind of this post if
THIS
ever comes up.