For the most part, I'm very happy that Michael goes to daycare/preschool two days a week. Being around other children has been so beneficial. Every day I can see how much he enjoys school and his new friends. The social skills he is learning are amazing, and that's just not something he could have gotten with my mom.
There are two downsides to daycare. The first one I've been whining about all winter, so I think you all know my opinion of daycare germs. The second downside is the daycare nap. Twice a week Michael takes a nice long nap for his daycare teacher. After lamenting the lose of the nap at 2.5, you would think I'd be thrilled, but I'm not. On nap days, instead of going to bed at 6:30, Michael will not got to bed until at least 8:00. Not only does it screw up our routine, it also screws up when Michael wants to wake up.
On weekdays, we give Michael a gentle wake-up. Andy starts it by taking a shower across the hall from Michael's room. When he's done his shower, he opens the door to let the steam out, which also shines light into Michael's room. When I head down stairs, I turn on the hall light to provide even more light. By the time I'm done getting everything ready downstairs, Michael is normally awake.
This is what I discovered when I turned his light on low this morning. He was out cold.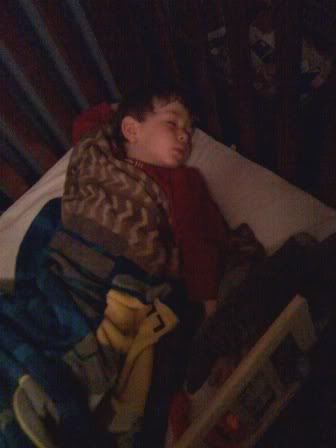 Let me just say that I hate being woken up. Ha, who doesn't really? My parents used to do the most annoying things to try and wake me up. My dad would do this sing-songy "Joey, Oh Joey" thing that I could not stand. When that didn't work, he would turn on the lights. Infuriating! If that failed, he would tickle my feet. How dare he!

So, I stood there trying to wake Michael up, but nothing was working. So what did I do? "Michael, oh Michael" I sang, cringing the whole time. "Michael, oh Michael."

Nothing.

What next?

Yep, I flipped the light all the way on. I confess, I'm evil. Michael responded with the normal roll over and try to ignore it defense.

The sing-songy voice failed. The bright light failed. Time for foot tickling.

Nothing. His feet aren't really that ticklish anyway.

I was pretty much out of ideas from things I swore I'd never do to my kids, so I had to get creative. I very gently reached down and pulled the covers off of him. That didn't seem to work, so walked down the hall to get ideas from Andy. (I did have one more idea, but I'm really not ready to resort to slamming garbage can lids together like my dad did.) As I walked out of the room, Michael started crying. "Mommy, don't leave me!" He was so sad. It was pathetic.

But, he was awake.