First for the Photo. I tell people about how persistent Michael can be, but until you actually see it, it's hard to understand. This is a perfect example. Michael was playing with his puzzle game when we started the bedtime routine. He continued playing while I got him changed. (He did hand the game to me for the potty break.) He carried it upstairs with him. He let Andy brush his teeth.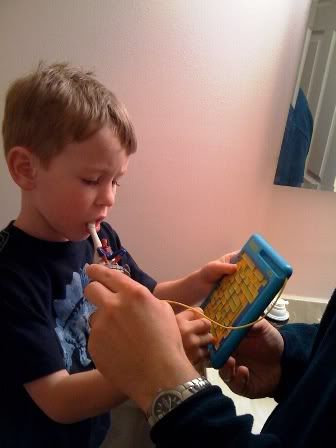 He didn't put the game down until I was in the middle of our second bedtime story.
Last week my mom made an annoying comment while we were talking on the phone. I could hear Michael in the background chattering away. My mom said, "Back when we were having you evaluated when you were having trouble in school one of the psychologists mentioned that excessive talking is often a sign of ADD."
Yes mom, that was around the same time I was inappropriately diagnosed with ADD. Remember, they were wrong. Stop trying to put bad ideas into my head.
Don't worry, ADHD is one thing I'm not concerned about with Michael. If anything, I wish he was just a tiny bit more distractable.
Now onto the Stuff.
I want to thank everyone for the kind words and thoughtful ideas you provided yesterday. The advice is very helpful, but so is the knowledge that I'm not alone. There is comfort in knowing that other people go through the same battles with their children.
I also have to say that "Myworld" left one of the best comments ever. She said:
The way my daughter and I hit each other's buttons, you'd think we were in a whack-a-mole game some days.

It's both funny and true, which in my book is perfection.
And finally, I need to do a little site maintenance. I've been using the blog rolls from other blogs for way too long now and I'd like to update my own. So please, if you read my blog, but you aren't on my list, please leave a link to your blog in the comments. I know I'm missing out on some good stuff, and I don't want to.