Last summer I
blogged
about a woman trying to cheer Michael into climbing a web at the local zoo playground. He had climbed up to the top rung of this rubber lattice that looks like a spider's web, but would not even consider trying to climb up the last bit onto the play structure. She cheered and clapped and coerced, and he dug in his heels. She was flabbergasted by the extent of his refusal. I just laughed quietly to myself at her wasted effort.
With the gorgeous spring weather this weekend I decided to take Michael to the zoo. We hit the playground and he did this.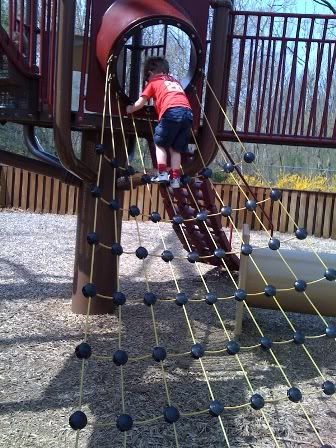 He didn't hesitate, he just scrambled right up and pulled himself over the edge. Then, he ran to the slide - which he was afraid of last summer - and slid right down. It's amazing what 9 months and a few inches will do.

It was amazing to watch him and compare his actions to last summer. Not only did he climb the web, he also climbed the rock wall and then monkeyed his way up this: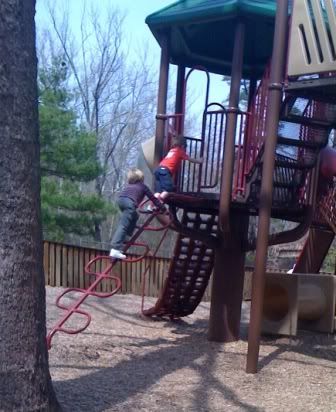 Last year he wouldn't even touch that ladder. He looked at it once and decided that he didn't want anything to do with it. This year it's no problem.

But, there was something even more impressive going on here. In the past, I've always had to hover near the playground equipment or else Michael would call me over and make me play with him. After a while, going down the slide with the little kids can get kind of old.

Do you see the older boy following Michael up the ladder? Michael was completely engaged in playing with the boy, and I was actually able to sit down on a bench in the shade. I'm not entirely sure what they were playing, but Spiderman, pumpkins and butts were involved. Whatever it was, Michael had a blast, the other boy seemed to have a good time, and I got to relax for a few minutes. I guess this is just a little taste of the future when my little baby won't need me there to hold his hand anymore.

Don't worry, Michael isn't about to move out on his own or anything. In fact, he threw a spectacular tantrum about 15 minutes later when I made him leave the playground with only five minutes notice. I suspect I have a few more years of hand holding ahead of me.