At work, it's not uncommon for people to ask me if I'm an engineer. I work at an engineering company, so it's a reasonable question. I'm not an engineer, but I do come from a long line of engineers, and I do tend to have some (many) of the traits of an engineer. Anyone who has spent much time around an engineer knows what I mean.
One of my "engineer" traits is that I'm not really into cutesy or whimsical stuff. For the most part, that kind of thing just seems unnecessary and sometimes even messy to me. However, becoming a mom has softened me up a little. It used to take cute, fluffy kittens to soften me up, but now even a show like Wow, Wow, Wubbsy will make go "awww" every so often.
Of course, Michael has about as much interest in cute as his mommy does. There is a reason people keep telling me he's going to be an engineer some day. He does do pretend play and has an active imagination, but he won't hesitate to stop playing for a moment to correct you when you aren't playing your assigned dinosaur properly. (Mommy, Allosaurus has 3 claws.)
Every so often, Michael branches out and does something creative. Recently, he's started drawing dinosaurs in addition to writing letters. And let me just say, they are the cutest things in the whole, wide world. I'm totally in love with them and encourage him to do it as much as possible. Check this one out.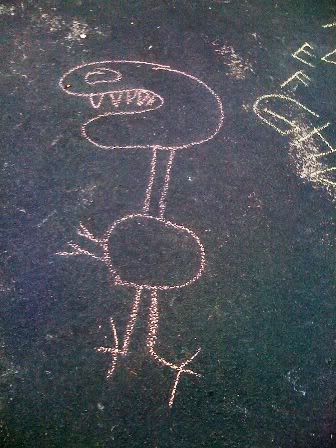 Isn't that just the most adorable dinosaur ever? We have them all over the parking lot, and I can't help but smile every time I pull up and see them. I just had to take a picture so I could post it here and gush about it. I just think they are cute, cute, cute. They make me feel all warm and fuzzy. It's really rather odd.

Of course, the moment is killed when Michael comes over and scolds me for parking on his dinosaurs. "Mommy, you need to move your car. You can't park on my dinosaurs."

"It's ok to park on them, the pressure will help turn them into fossils." I respond. This makes perfect sense to Michael and we carry on, both of us back to being annoyingly practical.