Stick a fork in me, I'm done.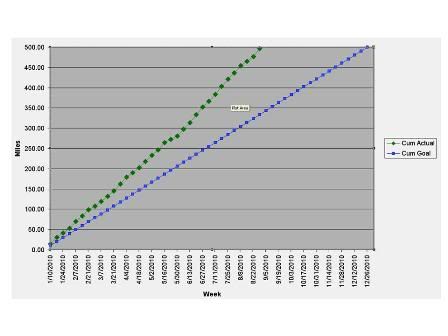 I've completed all of my 500 in 2010 goals except for running Warrior Dash, which I'll be running with Laura and Maria on October 9th. (I just learned that my 20th reunion is on October 9th. I was looking for a good reason not to go, and this is perfect.)

In addition to running, biking, and ellipticalling 500 miles this year, I've also lost 20 pounds and gotten myself into better shape than I've been in since college. I cannot tell you just how amazing it feels to know that I can go out and run 4 miles without a problem. At the beginning of the summer, I wasn't even sure I could run 2 miles. I really didn't think my body could do it. I've never been so happy to be wrong before. It's really inspiring to realize just how much power I have over my own fitness.

Now that I've reached my 500 miles, I'm going to stop tracking my miles. I'm still going to run and bike and use the elliptical, but I want to expand my workout to include more stretching and toning as well as devote more time to the rowing machine. The reality is that if I'm measuring my miles, I will devote all of my workout time to activities that produce miles. That is counterproductive to my overall goals, so I'm not going to do it.

I'd also like to add a note about Andy and 500 in 2010. I would not have been able to do this without his support. He shared the child care duties with me so that I'd have time to get out and run, and he did so willingly. Not only that, Andy also also completed 500 miles in 2010. In fact, he finished up weeks ahead of me. While I've really enjoyed the online competition (London, I'm looking at you) having Andy to partner with really helped me keep going when I wanted to quit.

Oh, and let me assure you that there were times when I wanted to quit. There were nights when I slept on Michael's floor while he cried in pain from another ear infection. There were workouts that were interrupted when Michael threw up in bed and needed to be bathed and the bed changed. There were long days at work that ended with a rough ride home in traffic. Sometimes, I'd give myself a break and take a night off. But most of the time, I pushed through it and managed to come in 4 months early.

I think I'll celebrate with a nice bottle of wine. And a few victory laps around the park.