I have a very vivid memory of the day my sister got her first pair of glasses. She was in 4th grade and I was in second grade. My mom took us to the store in the mall so that she could pick out her frames. If I remember correctly, she wasn't all that excited about it.
Me? I was so jealous. I wanted glasses so badly. I must have tried on every pair in the store. There were some awesome sparkly horn rimmed glasses that I fell in love with. It was so disappointing that I had 20/20 vision and didn't get my own pair of glasses.
I know, it's funny to think that someone would actually want glasses. I bet you think that when I finally did need glasses at age 18 that I wasn't as excited about it. But, I was. I've never had a problem wearing glasses. I've tried contacts, but I always go back to my frames. I'm just a glasses kind of girl.
Last night we went to Lens Crafters so Andy could pick out a new pair of glasses. He does wear contacts often, but he still wears glasses enough to need to replace them every five years or so. To keep Michael busy, I took him back to the kids section and let him try on the glasses.
He was just like me. I watched him try on each pair over and over again. He was so excited, I could barely get him to stand still long enough to snap his picture. This is the best I could do.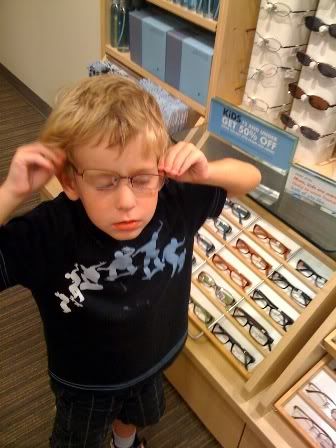 I have to say, I thought he was adorable with glasses, but I'm glad that he doesn't need them yet.

He was not happy that he doesn't need them yet. He begged and pleaded with me to get him glasses. He was so insistent that I had to explain that he can't get glasses without a prescription, and that he couldn't get a prescription unless his eyesight was blurry and a doctor decided he needed glasses. He was very disappointed and asked when he would be able to get glasses. Based on Andy's and my vision, I felt safe telling him someday.

Let's just hope he's so excited about it when the time does come. For some reason, I doubt it.