When I was getting dressed for work last Friday, I decided to wear my favorite shoes. They have a modest two inch heel, but by the end of the work day, my toes were still sore and I was ready to go home and abandon them someplace where Andy would trip over them. The only problem with this plan was that I forgot that I would be standing in the yard at Michael's daycare for his Halloween parade.
As I was waiting for Andy to meet me, I decided to snap a picture of my shoes to post on Twitter so my Tweeps could get a giggle out of it. Here is the picture I snapped.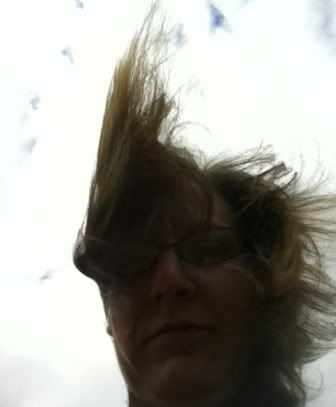 Clearly, that is not my shoes. The iPhone 4 has a camera on both sides, so you can now take pictures of yourself without a mirror. So, it was a combination of the double camera and operator error that lead to this charming picture.
Once I stopped laughing at myself, I fixed the camera and snapped this picture to post on Twitter.
Stupid shoes to wear for a kid's Halloween parade, but I love them so much, it was completely worth it.
*******************
On a completely unrelated note, I sat through a Program Manager's Meeting this morning. I made a point to watch all of the adults try and sit still through the meeting, just like I watched all the little kids sit still during story time the other day. While the adults were not quite as wiggly as the kids, they really were not that much better. There was tons of foot jiggling, Blackberry fiddling, repositioning, and even one manager who needed to get up and walk around at the back of the room.

So, based on my observations, managers and small children have almost the same capacity to sit still.